Product Description
This is the best tour in Tuscany you'll ever take. This once-in-a-life-time, in Val d'Orcia takes you through this enchanted valley in the heart of Tuscany. Pienza, Montalcino, Montepulciano, San Quirico or Bagno Vignoni and more! Your expert guide will fascinate you with made-for-the-movies tales arund the Orcia valley. You will get the best panoramic spots of this Valley, white gravel roads, classical Tuscan cypresses and a tasting of local products. Nature, food and wines are the main characters of this experience that you'll never forget. During our tour, we'll have our guide to delight you with the histories and curiosities of our lands.
An e-bike ride is simple and suitable for everyone. An easy bike ride makes it easy to focus on your surroundings and make the most of the ride. The guide will take a few minutes before we start to explain how to use the eBike and to make your bike safe and fun.
You will have the opportunity to enrich your culture with the history of this magical and ancient path, all thanks to my stories as we travel along the route. Added to this will be a visit to one of the most characteristic wineries in the area. A unique experience for the lovers of beauty and essence of grapes, better known as the nectar of Bacchus and local products.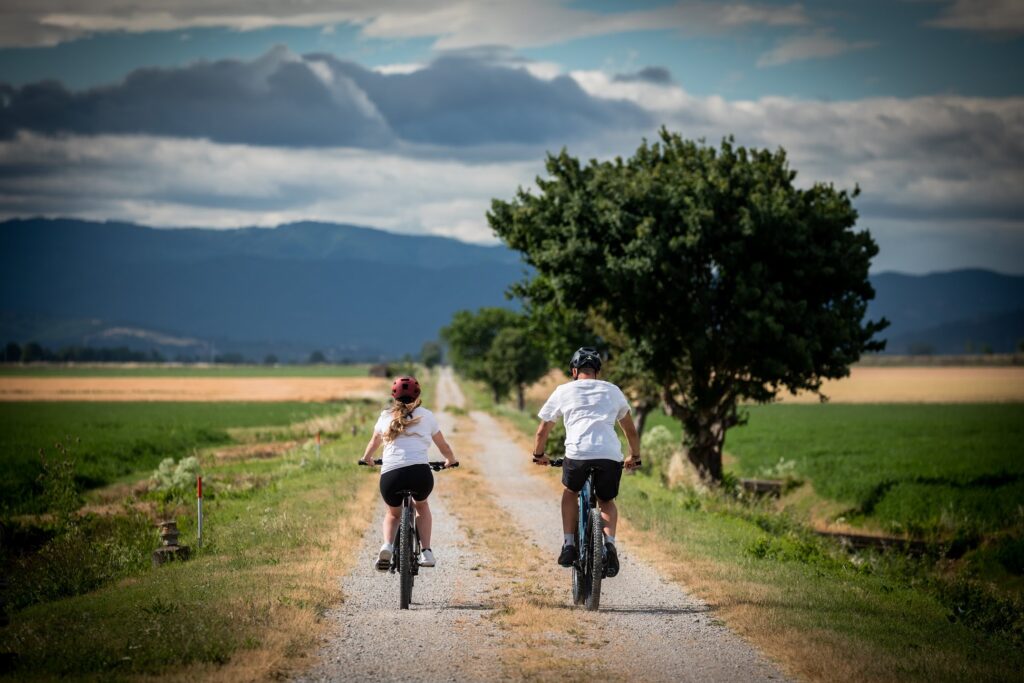 E-Bike rental with bike helmet
Wine Tasting, cheese and bruschetta with EVO olive oil Light lunch / merenda (depending on time)
Expert guide
Technical assistance during the tour
Tour duration: 5/6h
Partenza: Montepulciano or Pienza
Distance: 25/30km – 15/18mi
Dislivello: 480m – 1500ft
Terreno: Strade secondarie 80% – Strade bianche 20%
Technical difficulty: 3/5